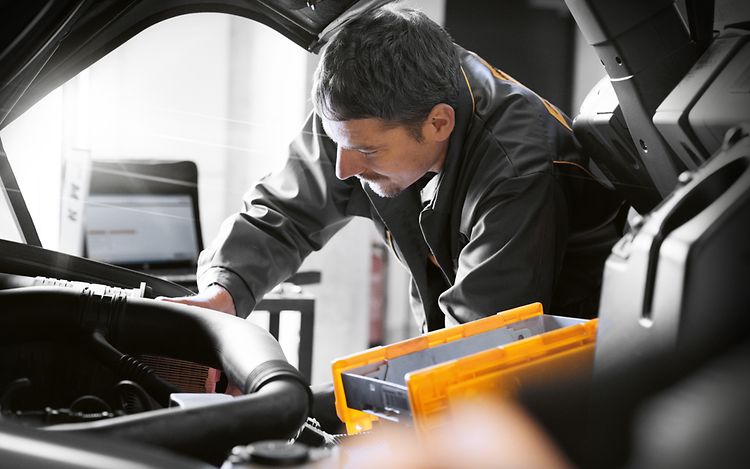 24/7 repair service
The forklift truck is your most important work tool. That is why you need a rapid solution to avoid long downtimes if anything goes wrong! The new service app from Jungheinrich helps you save precious time, it allows you to contact our customer service directly, around the clock, from your mobile device. This is the next logical step to enhancing our customer service for you: Jungheinrich Call4Service. Use your smartphone to place a service request. Anywhere. Anytime.
The Call4Service benefits:
Time-saving
Flexible and intuitive functions
Increased transparency regarding the current status of your service requests
Quick and easy-to-use
This is how it works:
Smartphone version
1. Open the App Store or Google Play Store on your mobile device.
2. Search for 'Call4Service'
Web Version
Open your browser and go to http://Call4Service.Jungheinrich.com/
Registration
From the app or website opening screen, click 'Sign Up Now'
Enter your company e-mail address, click 'Next'
You will be emailed a verification code, enter this and click next
Fill in your personal details. You will need your Customer Number and one of your truck serial numbers. (These can be found on any service report.)
To use the service, follow the simple on screen instructions
N.B Please make sure you fill in the 'desired date'
Once processed, you will receive a system e-mail confirming your request
Once your request has been planned by our Customer Service Team, you will receive an e-mail with an engineer eta.
What do you require and when? – tell us through the app
All your equipment details can be found within the app enabling easy identification. You can specify a date and time. Photographs can also be attached. As soon as you've sent your request, you will receive a confirmation email. This intuitive way of handling your requests is very time efficient.  You avoid long phone calls and we receive all the information we need.
The Call4Service app is available in the following stores:


Learn more about Call4Service. Contact us: